HOW TO ACCESS SERVER & SAVE WORK HERE
This course provides server space to back up your digital work. You may choose to also purchase your own hard drive to back up work.
Establish good work habits! Always save one copy of your work to SAVE WORK HERE and a second copy to the SERVER that allows you to access your files remotely.
STEP 1: SAVE WORK HERE
Use the desktop folder "SAVE WORK HERE," to store digital files on your lab desktop. Files left on the desktop of computers in 328 and 132 will be erased. To safeguard your work-always move it to a folder titled with your name within SAVE WORK HERE.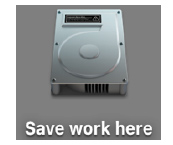 STEP 2: GO- CONNECT TO SERVER
We recommend that you retain one copy of all your work for VISA 2061 on the York server. Follow these steps to access the SERVER:

Select GO from the menu bar
Select from drop down menu: CONNECT TO SERVER

The following server address should be visible. (Type in the numbers 130.63.63.150 if they are missing)

Select Connect
Connect as registered user. Log in with your user name and student number.

A long list appears. Select VISA 1
Select your LAB within your course.

Select the folder with your name. (Note: You will only be able to access your own folder.)